How are paper clips and the Holocaust connected? How is something so small used to link documents together connected to a part of our history which we can never forget?? Why are butterflies symbols of children who perished in the Holocaust?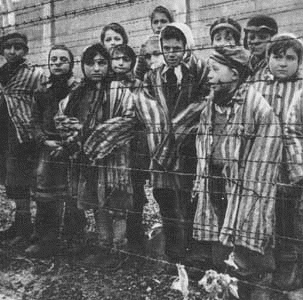 See link belo
w for Holocaust Butterfly Project
http://www.justimaginedesigns.com/butterflyprojectpg.html
Watch the trailer below...
"Paperclips" Film Trailer Listening Questions...
1. How many people live in the community?
2. What does it mean when it is said that they "really didn't have no diversity"?
3. a) What organization was founded only about 100 miles away?
b) Watch the rest of the film clip and explain how the 6 million paper clip project connected to the organization in 3. a)...
c) What connections do you think that the kids in this community would develop?
4. The idea started in a school, but spread to the whole _____________________.
5. Name 2 celebrities of the 3 mentioned that sent paperclips.
A documentary clip on the same topic from a newscast...
The "Paperclip Project" Holocaust Documentary Listening Questions
1. What does the teenage girl say the paperclip represents?
2. Why does she say, "I'm not going to just throw it down and leave it?"
3. What state do the middle schoolers come from?
4. How many million did they want to collect? Why?
5. The paper clips came in the mail with..... Name 2 things.
6. What do the letters teach students?
7. Although there are no Jews in the community, why
8. During WWII, why did Norweigens put paper clips on their labels?
9. The boy at the end of the clip says, "In the beginning I was a little prejudice toward people, but now I've learned to live with everybody". How did this project change his life?
"I Never Saw Another Butterfly" trailer
... a haunting look of Auschwitz and the children who died there...
"I Never Saw Another Butterfly" Video Listening Questions
1. How many children passed through the Terezin Concentration camp?
2. Less than how many survived?
3. a) Why did the filmmakers choose to only have voice overs (just voices) for each of the images?
b) Why did the film makers only use museum images?
c) What effect does this have on the viewer?
4. Why are the words "perished at Auschwitz" used?
5. What does "perished" mean?
6. Briefly state why must we take the time to watch to learn about the Holocaust??
Children of the Holocaust
... some parts are pretty heart wrenching... Some images are shocking... but it is real... These events really happened - and it is important that we take the time to see who is impacted by war. Who is impacted by hate... and why we must be aware of what's happening in our world, to ensure that this never happens again. We must educate ourselves and be aware of what's happening in our world... and not be people of apathy. Apathy is what caused the death of millions and millions of people throughout history, not just during the Holocaust.
If you are a teen that watches action flicks where there might be shooting or death... then you can probably handle this powerpoint below. If you cannot, then it is understandable... These photos are a bit shocking.
I Never Saw Another Butterfly
The last, the very last, So richly, brightly, dazzlingly yellow.
Perhaps if the sun's tears would sing against a white stone...
Such, such a yellow is carried lightly 'way up high.
It went away I'm sure because it wished to kiss the world goodbye.
For seven weeks I've lived in here,
Penned up inside this ghetto
But I have found my people here.
The dandelions call to me
And the white chestnut candles in the court.
Only I never saw another butterfly.
That butterfly was the last one.
Butterflies don't live in here,
In the ghetto.
by: Pavel Friedmann 4.6.1942
The poem is preserved in typewritten copy on thin paper in the collection of poetry by Pavel Friedmann, which was donated to the National Jewish Museum during its documentation campaign. It is dated June 4, 1942 in the left corner.
Pavel Friedmann was born January 7, 1921, in Prague and deported to Terezín* on April 26, 1942. He died in Oswiecim* (Auschwitz) on September 29, 1944.
*Terezín was a Nazi concentration camp.
I Never Saw
Another Butterfly...
By Fiorna Hams, St. Paul's Anglican
Grammar School, Australia
Franta (Frantisek) Bass was born in Brno on September 4, 1930. He was deported to Terezín concentration camp on December 2, 1941, and died in Auschwitz on October 28, 1944. He was fourteen years old. A total of about 15,000 children under the age of fifteen passed through Terezín, (Theresienstadt), a civilian town, turned ghetto, turned concentration camp in the Bohemian mountains, just southwest of Prague, Czechoslovakia. This town, built for only 8,000 people, at one stage housed close to 60,000.
Living conditions were poor; food was scarce, and shelter was wherever people could find it. Transports came and went until 1944 when only 100 of the 15,000 children that passed through Terezín had survived, none under the age of fourteen.
What did survive was a suitcase full of drawings and poems done by the children of Terezín between 1942-1944. In 1955, after ten years of collecting dust, the suitcase was found and the contents restored. The pictures and prose of the children have been read by millions around the world, and many of them are collected in a book, I Never Saw Another Butterfly....
From collages, to crayon pictures and poems, to letters for lost parents, this collection provides an interesting and rarely seen view of what was later known as the Holocaust. The accounts and interpretations made by the children as these events occurred around them is unique when studying this period of European history. The book was compiled to inform, like most texts, about the Holocaust and the suffering of the Jewish people.
But, this book was written by children. The accounts are not analytical or reflective, simply the thoughts, ideas, dreams, and nightmares of the innocent minds of young children with no sense of history. The writings tell of lost innocence, and, with intuitive subtlety, reveal the fears and suspicions of what the adults know of Terezín, but do not tell.
Pictures of home, loved ones, butterflies and flowers are signs of hope in a hopeless situation, and poetry about homelands and freedom are as much about faith and belief in the future as they are dreams of the past. But as years go by and people come and go, how long must a child wait to be free? Paintings grow dull and gray; poetry saddens, and we realize that there is no longer innocence in Terezín.
I am a Jew and will be a Jew forever.
Even if I should die from hunger,
never will I submit.
I will always fight for my people,
on my honor.
I will never be ashamed of them;
I give my word.

I am proud of my people,
how dignified they are.
Even though I am oppressed,
I will always come back to life.

-- Franta Bass
Text Studied: Volavkova, Hana, ed., I Never Saw Another Butterfly... Childrens' Drawings and Poems from Terezín Concentration Camp, 1942-1944. Expanded Second Edition, with a Foreword by Chaim Potok and Afterword by Vaclav Havel. (New York: Schocken Books, 1993.) 106 pages.
Reference: http://www.iearn.org/hgp/aeti/aeti-1998-no-frames/another-butterfly.htm
Holocaust Poetry by Children - Click on the link below
http://www.edu.gov.mb.ca/k12/cur/socstud/foundation_gr6/blms/6-2-4b.p
df
I Survived the Holocaust Website... Many stories, many pictures...
http://isurvived.org/TOC-I.html