EXAMINING THE ISSUE OF CHILD LABOUR...
FREE THE CHILDREN INFORMATION ON CHILD LABOUR
http://www.freethechildren.com/getinvolved/youth/issues/index.php?type=childlabour&gclid=CPuDqrmUgKUCFSMd5wodo0Dggw
Check out the Teacher Tube video created by a student on child labourer activist, Iqbal Masih (click on the link below)
http://www.teachertube.com/viewVideo.php?video_id=227&title=Iqbal_Masih
Videos on Iqbal
You've read the story of Iqbal Masih and watched videos that examine his life. He is a person who showed everyone around the world that slavery still exists today - and it reveals itself in the form of child labour.
Points to Ponder...
How could the story about Iqbal cause people to take action and do something? What kind of action do you think could be taken?
Child Labour Monologue Assignment
- Time to get creative with your writing!!
Now it's your turn.... You are going to find an image of a child labourer from one of the websites below (or scroll to the bottom of this blog), and brainstorm key ideas for a key message that the child in the photo might give in a
30 second - 1 minute monologue (this is about 3/4 - 1 page double spaced typed writing).
But wait! Before you can write your monologue, you need to get informed!!
*** CHILD LABOUR ASSIGNMENT - Click on the link to access the Google Doc, "Two Column Graphic Organizer"
Websites for child labour:
Here is a selection of pre-selected websites on child labour for you to evaluate and perhaps use for your research on life of child labourers from around the world. Some sites are better than others, and most are from well known International and National organizations on child labour. Read through at least 6-8 of the sites. Scan text features such as graphs, pictures, multi-media (slideshows, videos and podcasts) and get a sense of the issue. Then choose 1 or 2 and complete a Two Column Graphic Organizer for research for your Child Labour Monologue Assignment.
The Sites...
What is child labour
http://www.ilo.org/ipec/facts/lang--en/index.htm
I want to be president
http://iloblog.org/2013/11/14/i-want-to-be-president-malawis-little-voices-against-child-labour/#more-660
ILO's Slideshow -
"Dreaming of Freedom"
http://www.ilo.org//legacy/english/wdacl/2013/en/bit-maket/index.html
* This is a really good slideshow that explains what child labour is with excellent information to provide you with background knowledge
I
nternational Labour Organization
http://www.ilo.org/global/topics/child-labour/lang--en/index.htm
International Labour Organization - Child Labour Stories
http://www.ilo.org/wcmsp5/groups/public/---ed_norm/---declaration/documents/publication/wcms_decl_fs_44_en.pdf
Think Quest - Child Labour Stories from Around the World
http://library.thinkquest.org/03oct/01908/1024/lifestory_nadeem.htm
Good Weave - Child Labour Stories for children who have worked in the carpet factories
http://www.goodweave.org/about/children_stories
Canadian Labour Congress
http://www.canadianlabour.ca/news-room/publications/facts-child-labour
Fair Trade Canada
http://fairtrade.ca/en/news-views/news/tackling-child-labour-chocolate-industry
Free the Children
http://www.freethechildren.com/getinvolved/geteducated/childlabour.htm
Free the Children - Child Labour Video
http://www.youtube.com/watch?v=UWDcz0sfh4I
Canadian Coalition on the Rights of the Child
http://rightsofchildren.ca/resources
Saskatchewan Council for International Cooperation
http://earthbeat.sk.ca
Globe and Mail - "Is there less child labour?"
http://www.theglobeandmail.com/life/giving/is-there-less-child-labour-around-the-world/article4179461/
National Consumers League - Biggest Child Labour Stories of 2011
http://www.nclnet.org/worker-rights/82-child-labor/609-biggest-child-labor-stories-of-2011
United Nations Office on Drugs and Crime - Child Labour Stories
http://www.unodc.org/unodc/en/frontpage/2013/June/world-day-against-child-labour-_-two-stories-of-hope.html
BBC World Service
http://www.bbc.co.uk/worldservice/people/features/childrensrights/childrenofconflict/work.shtml
Unicef
http://www.unicef.org/protection/index_childlabour.html
Unicef Podcasts - Child Labour
http://www.unicef.org/videoaudio/video_49996.html
Unicef Radio - Podcasts of Child Labour Narratives
http://teachunicef.org/explore/topic/child-labor
Unicef - Back on Track Podcasts
http://www.educationandtransition.org/resources/podcast-84-let-us-learn-everywhere-–-towards-equality-in-education/
Kids and Needs
http://www.kidsandneeds.org/child-labor
Eco India
http://www.ecoindia.com/views/labour.html
Impact Limited Case Studies
http://www.impacttlimited.com/case-studies/
Worlds Children Prize
http://worldschildrensprize.org/globalclassroom/page.html#75&panel1-4
This link may not work as it's for a database. The password to access databases is

rcsd
http://www.npr.org/templates/story/story.php?storyId=13886263
A poem for child labours... listen to this podcast
http://www.npr.org/templates/story/story.php?storyId=4864221

What is a monologue? It is a speech given by one person directly to an audience. It is personal and expresses a person's thoughts, feelings and personality.
USING THE RESEARCH TO WRITE AN INFORMED AND AUTHENTIC MONOLOGUE
Now that you have done a little research, you can explore that research and combine it with your own ideas of what it means to be a child labourer...
When brainstorming...
What other supporting details would you use to support the main message? Use the paragraph diagram (see your notes) to organize your ideas and write a draft.
After drafting, you will then share your draft with another student PAIR.
Revise
your draft using the following questions:
1) Who is your monologue about?
2) What do they do as a labourer?
3) What is their life like? (Describe in detail your life as a child labourer. When do you start your day? What do you eat? What is your job like? When does your day end? What do you do for fun? Where is your family? Why did you become a child labourer?)
4) What is your hope? What are your dreams?
Revise your draft based on the feedback receive.
Finally,
edit your draft for mechanical errors
... and write a good copy. You will be adding a copy of your Child Labour Monologue on Kidblog.org - You will also be presenting your monologue for the class. If you are willing to try, you could record yourself with www.vocaroo.com or blabberize
http://blabberize.com
and then embed the recording into your blog on kidblog.org.
Part II. Child Labour Button Campaign...
You are going to create a slogan that will motivate people to take action against child labour. The primary purpose is to create awareness of this global problem.
This button must be attention getting... therefore it must be coloured in pencil crayon. Letter or writing must not only be neat, but be attention grabbing, so either outline your words in black marker or type them! The diameter of the button must be at least 10 -12 cm's - yes this will be a big button. (Diameter is the distance across a circle through the middle, from edge to edge).
Due dates:
Child Labour Monogue
brainstorm: Monday, November 18
draft #1: end of class Tuesday
revisions (self and partner): Wednesday, November 19
Good copy (after editing):
discuss
Post your monologue in written form on Kidblog.org by ... discuss
Child Labour Campaign button, due:
discuss
CHILD LABOUR IMAGES - YOU CAN USE THESE TO HELP CREATE YOUR MONOLOGUE...
Go to www.taggalaxy.com and check out images on child labour via Flickr. There may be an image which might inspire you. To cite the source, just source: www.taggalaxy.com.
When you choose your key words for Tag Galaxy, try child labor (American spelling on labor)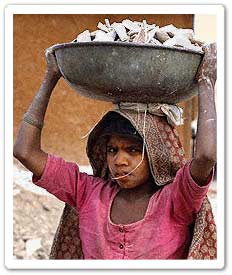 GETTING STARTED WRITING... OR REVISING YOUR MONOLOGUE...
How did you start your monologue? "My name is ____ and I am a child labourer..." What are some other ways you can start? What are some ways that you can "hook" you audience with an engaging lead?
Read the information below on interesting leads in writing... Note that the information is about Expository Writing, but how can you apply this to your narrative piece?
Leads in Expository Writing
What's the most boring way you could begin a research report about the human brain? A rattlesnake? The United States Constitution? We all know.
. . . In the report I will tell you about. . . "
Now that we know that, let's experiment with difference places to start.
• Start with a Snapshot. When you paint a picture, you draw the reader in . Notice the difference between these two leads to a report about ice-skating.
Boring

Ice-skating is my favorite sport.

Better

It's ten degrees below zero and the river is frozen a foot thick. It makes snapping sounds like the limbs of trees cracking. A long figure glides along the

black ice, moving toward the city. The only sound is the scraping of each blade as it bites into the river. That's me doing my favorite sport, ice-skating.
• Start with an important observation. Don't start in the general. Put your most surprising or important observation into you opening.
General

The human brain is a complex and amazing organ.

Better

Seeing stars, it dreams of eternity. Hearing birds, it makes music. Smelling flowers, it is enraptured. Touching tools, it transforms the earth. But

deprived of these sensory experiences, the human brain withers and dies. (Inside the Brain --- Ronald Kotulak)
• Start with a strongly stated question your readers might have. In some ways all writing is about trying to answer our best questions. A strong
question is one we all want to know the answer to.
Weakly-stated

In this paper I will attempt to answer the question why history is important.

Better

What's the point of studying history? Who cares what happened long ago? After all, aren't the people in history books dead?
• Put your connection with the subject in the lead. Why are you attracted to the subject? Do you have a personal reason for writing about this
subject? What specific memories of the subject come to mind?
General

The problem of longitude was one of the greatest scientific challenges of its day.

Better

Once on a Wednesday excursion when I was a little girl, my father bought me a beaded wire ball that I loved. At a touch, I could collapse the toy into

a flat coil between my palms, or pop it open to make a hollow sphere. Rounded out it resembled a tiny Earth, because its hinged wires traced the same pattern

intersecting circles that I had seen on the globe in my school room -- the thin black lines of latitude and longitude. (Longitude --- Dava Sobel)
• Flaunt your favorite bit of research in the lead. Start with the facts that made you smile, laugh, go "ahaaa" or just plain grossed you out.
General

Did you ever wonder why God created flies?

Better

Though we've been killing them for years now, I have never tested the folklore that with a little cream and sugar, flies taste very much like black

raspberries.